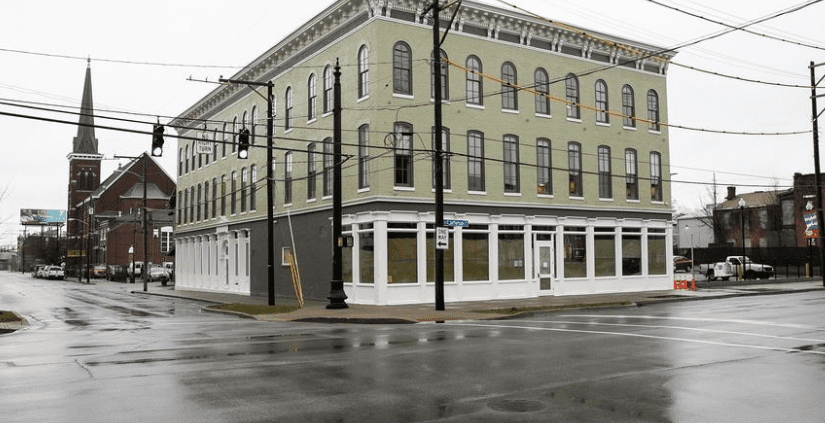 Inside NuLu's new 'micro-boutique' hotel: Hancock House
The former Louisville Chemical Co. building at the corner of Hancock and Jefferson streets in NuLu has undergone a radical transformation at the hands of Louisville's Weyland Ventures.
The family-owned real estate firm on Monday offered a tour of its newly opened Hancock House, a 16-unit "micro-boutique" hotel. The new concept offers services that blends the feel of an Airbnb unit with some of the comforts of a hotel that is already appealing to a mix of tourists, extended-stay guests and locals itching for a staycation.
Hancock House stands at nearly 20,000 square feet across three floors and a basement and includes 4,000 square feet of first-floor retail space, said Ashlyn Ackerman, a graduate architect with Weyland Ventures. She handled much of the interior and schematic design inside the building, which dates to the 1880s. It originally was home to Herman Schroeder's Grocery on the first floor with a boarding house on the second floor.
Weyland Ventures purchased the property in 2016 and spent about $1 million mitigating the chemical vapors and other environmental issues from the building, she said. That included stripping original items such as windows and trim, which were replicated during the renovation.
Some original cast-iron fireplace surrounds were saved and have been incorporated into the suites. The building also was expanded to allow for more units.
Construction took about two years to complete but costs were not disclosed. Louisville-based Bosse Construction Inc. was the general contractor while Arrasmith, Judd, Rapp, Chovan, Inc. — now Arrasmith, a Schmidt Associates Co. — was the architect.
Weyland Ventures also worked with Louisville Engineering Co. and local interior design firm ID+A on the project. First Hospitality Group manages Hancock House.
Ackerman said Weyland Ventures incorporated elements of the original grocery store and the boarding house feel into the design of the first-floor lobby area and the individual studio and one-bedroom suites, which vary between 400 and 500 square feet.
Each room is equipped with either a king- or queen-sized bed and a living room area with furniture, a pull-out couch and a large television. Each unit also has a kitchen with full-sized appliances and cookware. You can see the rooms for yourself in the attached photo gallery.
Rates vary, but a studio queen was available for $99 a night while the one-bedroom king was listed at $187 per night on the Hancock House website Monday.
Dustin Stutzman, director of sales for Hancock House, said the facility is offering introductory rates and discounted rates for those who book extended stays. Hancock House also is open to those who want to rent out the entire space for a large group.
"You can move in for one night or move in for two months if you want," Ackerman said.
Stutzman said he has been pleased with the mix of local and tourist traffic the complex has attracted since its soft opening in early February. Guests receive a digital code that gets them access to the building and rooms.
"You're on your own, which a lot of people like," Stutzman said. "We don't have a front desk. You don't have to check in at the front desk."
This freedom, he said, allows guests to "own the experience."
More activity is coming, as the Seafood Lady is relocating its restaurant into the Hancock House in about 2,200 square feet of existing retail space. Ackerman said the restaurant should be open this spring before the Kentucky Derby.
Another 1,800 square feet of retail space remains, and she said the firm hopes to attract a coffee shop or a speakeasy-type bar into the building.
Weyland Ventures has been highly active in the NuLu neighborhood over the years, particularly when it comes to mixed-income housing. Its residential developments there have included Quad Apartments, Park Edge, City Homes on Hancock Green and 310 at NuLu, which is located across the street from Hancock House. The firm also opened the five-story, 100-room Home2 Suites by Hilton Louisville in the NuLu/medical district area.
Weyland Ventures also has partnered with former nightclub owner and Louisville native Scott Smith to create ChurchKey, a themed restaurant, sports bar and event venue concept in NuLu that will be spread across more than 20,000 square feet and a roughly 4,000-square-foot outdoor courtyard in a former NuLu Church at 600 E. Market St. That project should be ready by Labor Day.
See more images of Hancock House here.
https://www.weylandventures.com/wp-content/uploads/2023/01/dsklfshksf2.png
644
825
Weyland Ventures
https://www.weylandventures.com/wp-content/uploads/2022/12/Weyland-Ventures-Logo-2019.jpg
Weyland Ventures
2020-03-02 08:06:54
2023-01-23 08:08:29
Inside NuLu's new 'micro-boutique' hotel: Hancock House